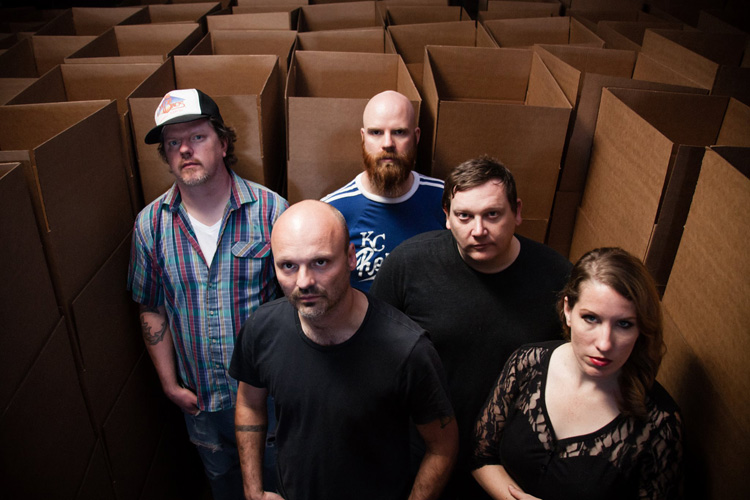 When In the Pines released their self-titled debut in 2008, their sound resonated profoundly within and beyond the Kansas City music community.
Founded as a sextet that included a two-piece string section, the band deftly mixed music from disparate genres and eras into a sound that was fresh but familiar—nostalgic, even: a blend of old-time folk, classical music and experimental folk-rock. It cast a spell that transported listeners forward into new terrains and back into long-lost times, a sound with a sepia-toned Dorthea Lange/Dust Bowl vibe embellished with contemporary attributes that quashed any notions of revivalism or retroism.
"In The Pines" impressed listeners far beyond the band's hometown, It was released in Kansas City by Second Nature Recordings, which led to some regional touring, and by the German label Arctic Rodeo, which led to a tour of Germany. The future looked bright. Then life got in the way.
In 2010, lead singer Brad Hodgson moved to Austin, Texas. Then live shows became more infrequent; the lineup changed; the band took a hiatus; and the recording process was delayed, interminably, it seemed to fans awaiting new music.
In June 2020, the band released "Bones," the first song from the impending, long-awaited second full-length. The lineup still includes five original members: Hodgson, Darren Welch (bass, vocals), Laurel Morgan Parks (violin, vocals), Matt Wolber (guitar) and Mike Myers (drums).
Despite the song's title, there was nothing skeletal about "Bones." It's a lush and orchestral, midtempo, folk-ish rock ballad awash in strings, embroidered with violin and guitar filigrees and bathed in dreamy vocals and supernal harmonies – five minutes of deep reverie.
And now, a year after the release "Bones," In the Pines is set to release on Arctic Records its 11-track, full-length second album, "Interlude." The song, it turns out, revealed in many ways what the rest of the album would sound like.
It signified a departure from the Pines' initial sound yet replete with all its trademark traits: melodic, meditative and built on clever turns and changes. Over the course of 45-plus minutes, the band transports listeners on a mesmeric ride, one filled with hypnotic grooves and dusky terrains.
The opening track is aptly titled "The Sun Is Going Down." It's a twilit ballad with shifting time signatures and spell-binding vocals that don't appear until halfway through. "Ghosts" sways gently to a hearty, angelic, orchestral-folk vibe. The instrumental closer, "Moving On," arrives and departs in 2 minutes and change, depositing its own unique spirit along the way, one garbed in piano, strings and horns. As the album's swan song, it casts a fitting mood, one of optimism and melancholy.
Upon the release of the "Bones" single, Hodgson called the process of making "Interlude" a "long haul with lots of obstacles" but one with a deeply satisfying payoff: "The thing that stands out is how much I love working with and creating with the band. We've been together so long, no matter the distance or time apart, it still feels like family."
The rewards of that long haul and hard work are about to be distributed beyond the band family. Loyal fans at home and abroad will soon discover that the decade-plus wait for "Interlude" was well-worth all the patience spent.
Arctic Rodeo releases:
IN THE PINES – "Interlude" – LP / digital (arr086)
IN THE PINES – "In The Pines" – CD / LP (arr007)