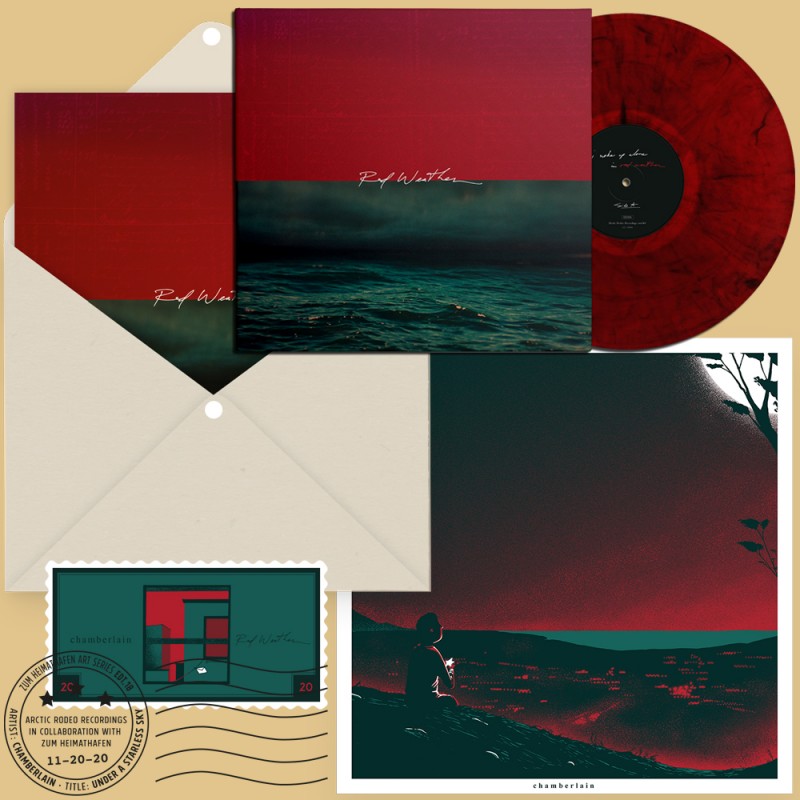  
CHAMBERLAIN - Red Weather - Deluxe Special Edition LP (Zum Heimathafen Art Series)
Vinyl LP + exclusive screenprint + exclusive special packaging - OUT OF PRINT!
OUT OF PRINT!
CHAMBERLAIN - Red Weather - Deluxe Special Edition LP (Zum Heimathafen Art Series #18)

Vinyl LP - Deluxe Special Edition
limited to 230 copies

- exclusive pressing on red/black marbled vinyl
- exclusive screenprint designed, printed, numbered by hand and signed by Zum Heimathafen
- exclusively handmade special envelope and stamp packaging designed by Zum Heimathafen
Red Weather Vinyl LP
total pressing of 1200 copies
- 230 copies on red/black marbled vinyl - exclusive Deluxe Special Edition (ZUM HEIMATHAFEN ART SERIES #18)
- 400 copies on green/white/black marbled vinyl (Standard edition)
- 250 copies on red vinyl (Kickstarter standard edition)
- 200 copies on gold/black marbled vinyl (Kickstarter limited/signed edition)

Release date: December 18, 2020

The ZUM HEIMATHAFEN ART SERIES is a strictly limited first pressing series of our vinyl releases. Our vinyl records can be pre-ordered as a strictly limited package including the vinyl release on a special vinyl color plus an exclusive art which is screenprinted and numbered by the hands of our friend Alex from Zum Heimathafen. These are early-bird-one-time pressings, so once they are sold out, no more copies will be available. The ZUM HEIMATHAFEN ART SERIES are only available at our webstore and at the German mailorder Flight 13. If you want us to keep you posted about timings and further infos, please folllow us at Twitter, via Facebook or drop us a line to info@arcticrodeorecordings.com.
Tracklisting:
01. Not Your War
02. Calling All Cars
03. Red Weather
04. One Soul
05. Some Other Sky
06. Every Trick In The Book
07. Reign of the Two Kings
08. Lion In The Well
09. Take What You Can Get
10. Lights Go Low