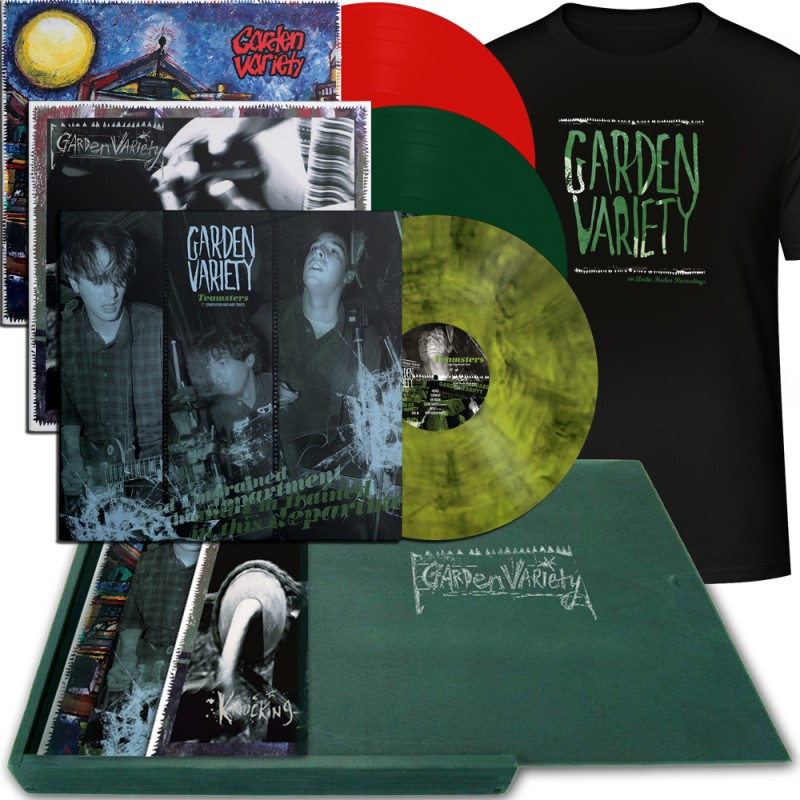  
GARDEN VARIETY - The Complete Discography 1991-1996 - Deluxe 3xLP Box Set + T-shirt
3 Vinyl LPs in a wooden box + booklet + poster + specials + t-shirt

GARDEN VARIETY - The Complete Discography 1991-1996 - Deluxe 3xLP Box Set

3 Vinyl LPs + booklet + packaging + poster + specials
inkl. Teamsters (Compilation of 7" Singles, Compilation Tracks etc.)
packed in an exclusive wooden box
+ exclusive t-shir tmade of organic cotton, manufactured under Fair Wear conditions and at Earth Positive standards.
THE EXCLUSIVE T-SHIRTS ARE AVAILABLE FOR A LIMITED TIME ONLY AND WILL BE MADE ON DEMAND! THIS BUNDLE IS THEREFORE ONLY AVAILABLE FOR PREORDER UNTIL OCTOBER 5th 2019!
Pressing on colored vinyl
GARDEN VARIETY - s/t on red vinyl
GARDEN VARIETY - Knocking The Skill Level on dark green vinyl
GARDEN VARIETY - Teamsters on yellow/black marbled vinyl
Limited to 500 copies
Veröffentlichung: 25.10.2019
GARDEN VARIETY - s/t
Tracklisting:
01. By And Large     
02. Fall In     
03. Shelf Life
04. Pretty Mouth     
05. Rode (For Justin)     
06. Hat Head     
07. Closet     
08. Binder     
09. Unsound     
10. Stool     
11. Letter To The Editor
GARDEN VARIETY - Knocking The Skill Level
Tracklisting:
01. In All Respects    
02. Harbored    
03. Stickler    
04. Soft On The Name    
05. Parker    
06. Chatroom Walkout    
07. Room 183    
08. Nine Behind You    
09. Settling    
10. Captain

GARDEN VARIETY - Teamsters (Compilation of 7" Singles, Compilation Tracks etc.)
Tracklisting:
01. Hedge (Hedge 7" Mint Tone Records 1991)
02. Turnout (Hedge 7" Mint Tone Records 1991)
03. On Track (Hedge 7" Mint Tone Records 1991)
04. Clean Sheets (Homage: Lots Of Bands Doing Descendents' Songs 1994)
05. Push (Soundviews Magazine Compilation Track 1995)
06. New Guitar Parts (Split 7" w/ Jejune, Montalban Hotel Records 1996)
07. Puzzled (Remixed and remastered version, originally on s/t)
08. Pretty Mouth (Alternate 7" Version mixed by Murphy's Law Bassist Chuck Valle 1994)
09. Hat Head (Live at CBGB 1994)
10. Interview with Janeane Garafalo (Part One 1994 w/ Live Version of Harbored)
11. Interview with Janeane Garafalo (Part One 1994 w/ Live Version of Chatroom Walkout)